"You can't live without water – everything is totally the wrong way."
This is one of the things that stands out in the memory of South Sudan international Joseph Malish as he recounts his experience living through the conflict in Sudan.
The ongoing fighting between rival military factions began on 15 April and a UN Agency said this week that more than 700,000 people have been displaced.
"There is no proper food, you only eat some little food that is not even that healthy," Malish told BBC Sport Africa.
The 20-year-old midfielder is registered with Al Merrikh, one of Sudan's biggest clubs who have won the national title 22 times. Based in Omdurman, just across the Nile river from the capital Khartoum, the air strikes and ground battles have impacted millions of people in both cities.
"It really affects us – affects us mentally, affects us psychologically. It really disturbs us," Malish continued.
"The things that affect us most are the cutting off of electricity, no water, no proper internet connection, no calling – no nothing.
"So, you can't communicate with the family for two to three days."
This is not the first time Malish, who is now back home in the South Sudanese capital, Juba, has experienced conflict.
South Sudan gained independence in 2011 but quickly fell into civil war.
Malish fears things could escalate further in the city from which he has just fled.
"We experienced it here in some years – in South Sudan it happened in 2016 – but not much like this one in Khartoum.
"These things are so dangerous."
'I heard air strikes every day'
Ghanaian Fatawu Sulemana, who has represented his country at under-20 level, is a team-mate of Malish at Al Merrikh.
He too fled Khartoum and is now back in Ghana.
The left back, 19, is one of a number of overseas players representing the club including four Brazilians and a Columbian making up those from outside Africa.
"I heard air strikes each and every day when I was there. I was scared to lose my life," Sulemana told BBC Sport Africa.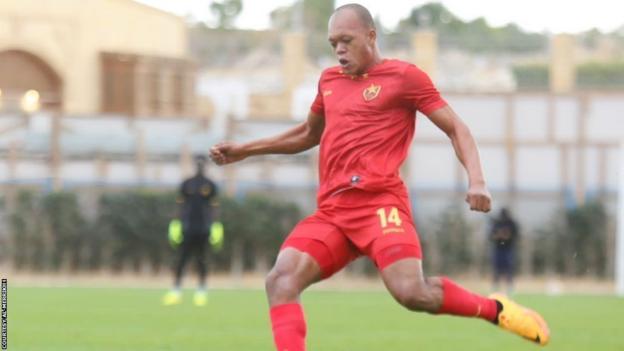 "I don't want to remember it again because it wasn't easy there. It affected me because we stayed indoors for two weeks without training.
"I was worrying about my family because I'm the one taking care of the family, the family will be down if I lost my life."
"We left Sudan by bus on a two-day journey," he revealed.
"I'm in Ghana now and am doing better. My family are happy to see me, I trained well and everything is moving on."
What now for the Sudanese league?
More than 600 people have been killed and 5,000 wounded in Sudan as battles rage between the army and a paramilitary group called the Rapid Support Forces (RSF).
Despite several attempts at a stable ceasefire, a cessation in the fighting currently seems unlikely.
So what now for domestic football in Sudan?
"Concerning the league, it will take time because most of the facilities have been destroyed," said Malish.
"The sport facilities, stadiums and fields are good, but the problem now is that the situation is not going to be like before.
"It needs some time to be good, to be normal. Plus, the scattering of each and every player who went to their families."
Despite his experience, he is keen to return to fulfil his contract with Al Merrikh.
"In bad times you feel emotion, you're waiting for this event to finish. You look forward to going to your country and making the family happy.
"But we are looking forward to everything to finish in Khartoum so that we may go back and continue with the football.
"I see it's possible but it's not going to be easy any time soon."
The Sudan Football Association are currently exploring options for a resumption of the country's league.
There are also fixtures for Al Merrikh's neighbours, Al Hilal, to honour in the Arab Club Championship.
"We hope that the security crisis will go away so Al-Hilal can play inside (of Sudan)," said Qurbh Othman Rahim Abdul, a board member of the association.
"Especially since the Arab Football Association does not set harsh conditions for the validity of stadiums in order to stage matches.
"The board of directors will take the appropriate decision at the appropriate time to choose the country in which we will play our (league) matches, if it becomes a reality.
"Libya is one of the options before us in the event that we are forced to play outside Sudan."