The tech industry saw a significant market correction in 2022.
After a boom through the pandemic — when big tech stocks reached unprecedented valuations — their return to reality was equally impressive.
Spurred on by recession fears, the tech-heavy Nasdaq 100 index ended the year down over 30 per cent. Layoffs increased by six times the year prior – as per consulting firm Challenger – led by companies such as Amazon, Meta (formerly known as Facebook), and Twitter. 
Going into 2023, the trend has continued. This January, Microsoft and Google were among the most notable companies to downsize. As per data by Layoffs.fyi, over 100,000 employees have lost their jobs in the tech industry since the start of the year. 
Compared to the wider industry, the cybersecurity market has been sheltered from the storm. While job losses have still been reported, roles in this field remain in high demand around the world.
In a LinkedIn report about Singapore's 2023 job trends, two of the top 10 fastest-growing jobs were found to be in cybersecurity. Over in the US, the number of available cybersecurity jobs – over 700,000 – remains almost the same as it was at the end of 2021. 
Why is cybersecurity in demand?
The pandemic sped up the process of digitalisation. In its aftermath, some markets are seeing a return to the old norm – for example, demand for streaming services has started waning now that physical modes of entertainment are back in action.
On the other hand, fields such as digital banking and e-commerce are seeing a longer lasting impact. 
Cybersecurity falls in the latter category too. As more and more services are offered online, the avenues for cyber attacks have widened.
From phishing emails to fake advertisements, scammers have developed increasingly sophisticated ways to steal data and funds online. As per research by Checkpoint, cyber attacks increased by 38 per cent in 2022 as compared to the year prior. 
This increase in attacks may also be attributed to the growing number of internet users, or in other words, potential targets. Older users – those over the age of 65 – have proven to be particularly vulnerable due to a lack of familiarity with digital technology. 
Pandemic aside, as the push for digital banking and e-commerce continues, so does the need for cybersecurity. Online transactions have increased significantly over the past year and businesses must spend more to ensure the safety of their platform and users. 
What skills are needed to work in cybersecurity?
For cybersecurity engineers – one of the fastest growing roles in Singapore – a knowledge of IT systems is integral. They must be familiar with tools such as network mappers and cyber attack simulators.
Along with this, there's a need to identify system vulnerabilities and implement protocols which help minimise risk. Finally, engineers need to stay aware of new threats which arise in the space and investigate attacks that occur on a day-to-day basis. 
Although it isn't always necessary, coding knowledge can give applicants an edge when applying for cybersecurity roles too. Malware can often exist as lines of code within an application and while this is usually detected by software, knowing code can help engineers understand how the malware could cause harm if left unchecked.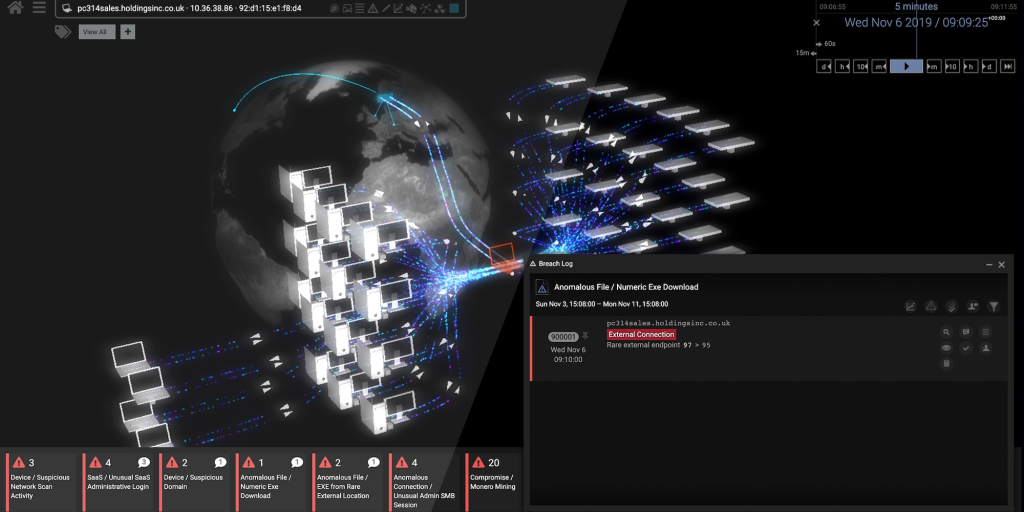 In recent times, the use of artificial intelligence (AI) in cybersecurity has become prevalent as well. Companies like Darktrace are pioneering machine learning methods which can automatically detect and prevent attacks with little human interference. This could change the job scope for cybersecurity engineers in the near future. 
As per Darktrace's Director of Enterprise Security, Tony Jarvis, it would free up their time from mechanical tasks and allow for a more focused approach towards threats which actually pose a serious concern.
Applying for cybersecurity roles in Singapore
Most advanced cybersecurity roles require an undergraduate degree, either in cybersecurity itself or related fields such as computer science or software engineering. In Singapore, such degrees are offered by universities including the National University of Singapore, Nanyang Technological University and the Singapore Institute of Management.
That being said, this requirement isn't industry-mandated. An alternative may be to acquire relevant certifications such as Certified Information Systems Security Professional (CISSP) or Certified Ethical Hacker (CEH).
Entry-level positions may overlook the lack of a degree when it's made up for with an equivalent skillset.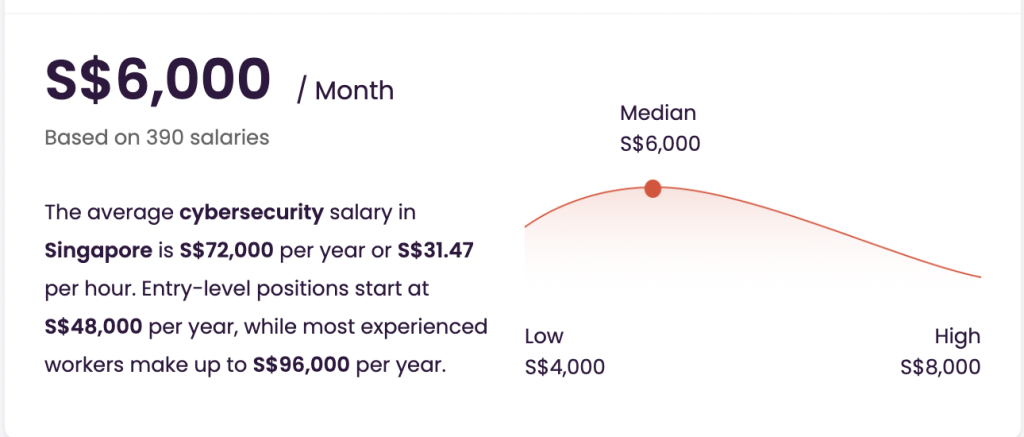 As it stands, there are thousands of job postings promoting cybersecurity-related roles on LinkedIn. These can be found across industries including banking, technology, gaming, and media.
JPMorgan, Goldman Sachs, Singapore Airlines, and Sony Electronics are among the notable companies hiring in this field. 
Data from sg.talent.com suggests that the median pay for those in cybersecurity is S$6,000 per month, with experienced workers earning as much as S$8,000 per month. 
Featured Image Credit: Getty Images
Also Read: The world economy is headed for a recession in 2023 – how will this affect life for S'poreans?