Imagine that Thomas Tuchel had not been sacked by Chelsea at the beginning of September and that Graham Potter had not been lured from Brighton to replace him. Potter, presumably, would still be in charge at the Amex. Would Brighton's situation now be better or worse? Would they be heading into Sunday's game against Southampton sixth in the Premier League table and likely to qualify for the Europa League?
Brighton had begun this season well, taking 13 points from the first six games – which, of course, is why Potter was appointed by Chelsea. Would Todd Boehly and Behdad Eghbali have been drawn by his years of steady progress culminating in last season's ninth-place finish? It seems unlikely. It is indicative of how large a part chance plays that had Boehly realised at the end of last season that Tuchel was not the man for him, the obvious candidate to take over would have been Brendan Rodgers.
Perhaps Potter would have been able to maintain that start. It is implausible he would have been able to maintain that 2.17 points per game average, but if you combine that with last season, he was going at 1.45 points per game. Roberto De Zerbi's 29 games this season have yielded 1.55. It may be that with the changes in personnel over the summer, Potter would have matched that over the course of the season.
But the sense remains that De Zerbi has taken Brighton to a new level, that they are now a side who can go to the Emirates, play without fear and come away with a 3-0 win. Certainly he has made them more exciting.
It may be that Potter would have evolved and Brighton enjoyed success had he stayed. But it may also be that to play as they have this season, to reach these heights of performance, they needed to replace Potter, that De Zerbi's arrival came just at the right time for their development.
These are difficult, abstract and slightly artificial considerations. Brighton clearly were not going to sack Potter in September. That would have been absurd. It's not as simple as saying that De Zerbi is a better manager than Potter. It's not like replacing a phone with the upgraded model. Everything in football is relative. Managers have different skills that equip them for different circumstances.
The director of a club once told me that they should have sacked their manager as soon as they won promotion to the Premier League. "You don't put the bloke who runs a corner shop in charge of a multinational," he said.
In practice, of course, almost no club sacks the manager who won them promotion without giving him at least a few games in the higher division (Scott Parker talked himself out of the Bournemouth job this season after four games, beating Gary Megson's 10 at West Brom in 2003-04 to become the briefest post-promotion stint in Premier League history by six; Jørn Andersen led Mainz to the Bundesliga in 2009 and was sacked before playing a league game the following season, although that was more to do with a cup defeat to fourth-tier Lübeck than an immediate recognition he wasn't cut out for the higher level).
If it goes wrong, directors look ridiculous and, even in a world in which notions of loyalty are as debased as they are in football, there is a sense that a manager who achieves promotion deserves a chance.
But equally, the Championship is a very different competition to the Premier League. It requires different skills. Even within the Premier League, there is a major difference between coaxing a side to avoid relegation on a relative shoestring and pushing on with a bigger budget to challenge for European qualification.
An even bigger one is actually competing for the title and playing in the Champions League (which of course is why elite clubs are often reluctant to appoint British managers who have made their names in the Championship, preferring to go for overseas coaches with European experience).
It's more complex, though, even than that. Managers do not arrive to a vacant lot. There is always something already there, structures to be removed or built on. One of the reasons for Pep Guardiola's success at Manchester City was that the ground had been prepared for him by two former Barcelona directors, Ferran Soriano and Txiki Begiristain. One of the reasons for Erik ten Hag's patchy progress at Manchester United this season is that there are incompatibilities between the squad he inherited and his ideal vision.
There are occasions when a manager inherits a legacy that is necessary for what he then builds. Arsène Wenger clearly benefited from George Graham's back four at Arsenal. The momentum generated by Nigel Pearson was a huge factor in Claudio Ranieri leading Leicester to the title. Bob Paisley may have been the more subtle tactician, but could he have been successful at Liverpool had Bill Shankly not built the modern club first?
It happens in other sports as well. Although Michael Vaughan's captaincy was a vital element of England's Ashes success in 2005, it was first necessary for Nasser Hussain, taking over before the gloom of the home defeat by New Zealand in 1999, to make them hard to beat.
For Brighton, it was Chris Hughton who made them hard to beat, then Potter who developed that into something slightly more progressive. For now, and bearing in mind how quickly things can change for those who are not super-clubs – as the example of Leicester shows – De Zerbi has taken that a stage further.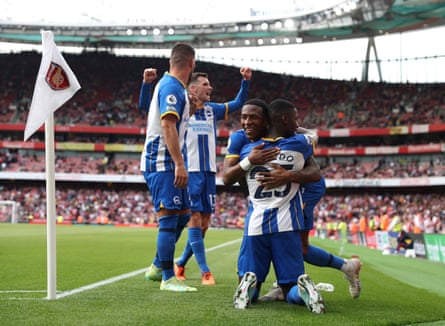 But would De Zerbi have been able to save Brighton when Hughton took over at the end of December 2014 with the club fourth-bottom of the Championship? Perhaps not. Different managers are appropriate for different challenges.
It may be that this has worked out perfectly for Brighton, that Boehly's falling out with Tuchel was serendipitous for them, that they have made the transition to the next phase of manager at just the right time, a change they would never have made volitionally. And that is one of football's great complexities. It is often not a case of good or bad or better or worse, but of multiple interlocking contingencies. Everything depends on something else.