What a night, what an equaliser from Fred, what a winner from Antony, in a tale of two Brazilians who downed Barcelona and lit up Old Trafford for Manchester United.
Fred blazed his equaliser home moments into the second half – off his right shin – and 10,000 volts jolted through the stadium because United had just turned frustration to joy. Whatever occurred from that juncture, Erik ten Hag's men had already stunned Barça, informing Xavi's side that they intended to keep on keeping their fans bouncing – and singing. Marcus Rashford and Antony raced in, and the congregation regaled them with the ditty that features "a knick-knack paddy whack" and ends in an invitation for (Manchester) "City to" expletive "off home".
Part of the noise was laced with relief after what had been a first-half horror show. Not anymore. When Bruno Fernandes smashed the ball into the body of a sliding Frenkie de Jong, suddenly a melee of man-bags ensued and Barça were as out-of-kilter as United had been before the break.
Seventeen minutes and 10 seconds had been the time on the clock when Robert Lewandowski made Fernandes pay from the penalty spot for yanking down Alejandro Balde. It demanded a question of United: could they follow the "rules" Ten Hag often cites and find a way back?
The answer for the rest of the 45 minutes was a clear "no" as United veered close to being a rabble who sought refuge in bickering with the referee, Clément Turpin, and doing what is always a self-defeating exercise: feeling sorry for themselves.
"Fearless" was how the manager stated United should take on this contest and Ten Hag walked his own talk by selecting Jadon Sancho at No 10. This was the first time the wide man was trusted to operate there and it did not work. Sancho was a listless presence, one of a misfiring unit, as Casemiro could be magisterial, threading a defence-splitting ball in, then mis-hitting a clearance, while Fernandes spurned two clear chances and when De Jong scythed down the captain the act was a warning to United: Barça, with a lead to protect, can be as adept at doing so with the game's darker arts as with their array of ball-playing skills.
Ten Hag got sucked in, giving his men zero impression of a cool-customer manager who had faith they would solve the puzzle. The Dutchman was enraged enough with Barça's theatrical dives and technical fouls and Turpin's officiating – starting with the penalty award – for the referee to hand him a stern word.
The visitors enjoyed seeing this, but they were no slick and dominant opponent who cuffed United aside at will. As Ten Hag had offered, they, too, are a work-in-progress, a continental aristocrat still finding their way back to the top table. United still had every chance. But, no, the message was not getting through, as Wout Weghorst committed their latest niggly foul, which Turpin gave, and more haranguing of the man in black ensued.
In this medley of frustrations for United, serious disaster came close to occurring when David de Gea cleared straight to a lurking Sergi Roberto, who would have doubled the lead if not for Casemiro's blocking heroics.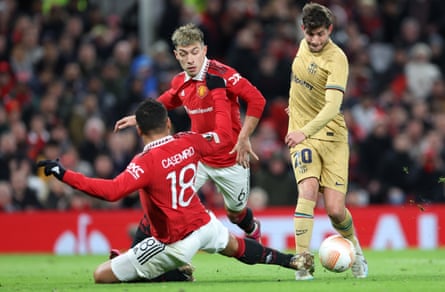 From the start this promised to be as raucous an occasion under the midweek lights as has been seen here for a long while. An odour of gunpowder drifted around the place, perhaps from smuggled-in flares and, for a potential parallel, someone mentioned the evening Sir Alex Ferguson's vintage were knocked out by Real Madrid, Cristiano Ronaldo's finish ending the 2012-13 Champions League campaign and the great Scot's time in European competition, that day in March coming two months before his retirement.
It was a fair stab at a parallel: this 133-year-old venue has staged many scintillating contests and when Casemiro thudded a pass into Fernandes and Rashford was chopped down, this one was on the way to join them. Yet you had to rewind 15 years to find the last man to score for United at home against the Catalans: Paul Scholes, whose 20-yard peach 12 minutes into the 2008 Champions League semi-final second leg took them to the final.
Putting aside Luke Shaw, whose own goal in a 2019 quarter-final second leg technically made him the last to register at the ground in United colours, Fred's memorable strike bridged the gap to Scholes and goes down as the finest moment of an uneven career at the club. Antony's winner came with a limb that can be lustrous before goal. He may be particularly one-footed but what a left it is.
Next, United motor to Wembley on Sunday to meet Newcastle in the Carabao Cup final. "We are not the finished item yet," Ten Hag had said.
They move closer on every game-day. Beat Eddie Howe's team and United will end a six-year trophy drought and make it some week.