Shortly after the 4-1 evisceration at the Etihad Stadium on Wednesday night – a title decider that felt at times like an entirely self-contained event, Manchester City's players simply having a conversation with themselves – Arsenal's Twitter feed posted 30 seconds of approved Aaron Ramsdale apology content.
Ramsdale thanked the fans. He spoke nicely about the need to keep on keeping on. In a moment of arch, algorithm-driven satire this post was accompanied by a sponsored advert for something called "the New Melts", a horrific-looking pizza-style food product, pictured in grisly closeup sagging out of its cardboard skin.
True to form there was plenty of this in the replies, the conviction that Arsenal's performance had indeed been a melt, a collapse, a choke, the sporting equivalent of a kilo of grease-drenched artery-clog drooping on to the arm of your sofa.
Did Arsenal choke at the Etihad? Was this something as recognisable, as familiar, as the bottle job and the no-show? Arsène Wenger said a good thing in the buildup. In the past few weeks Arsenal have begun to think about how to win. Before that the players thought only about the process, the system, not the outcome.
Whereas City are by now all process, a champion team that know how this should feel, that will celebrate a successful team press, will concentrate simply on lines and angles and drilled moves. Winning is a skill. You learn how to do it. Arsenal will be back. Ideally with more centre-halves.
Does this sound enough? By the end that 4-1 defeat certainly felt like something more basic. To choke is to have agency, to have a decisive say in what happens to you. Mikel Arteta's team went to the Etihad as league leaders and spent 90 minutes being marched around like a team of straw-stuffed tailor's dummies. Even the stumbles of the past few weeks have felt like something induced by the pressure at their back, a human-scale football entity being pursued by a team so good they appear to be operating to a different set of laws, for whom victory is simply a matter of pressing go and following the playbook.
This has now reached a significant point. City are on the verge of winning a fifth league title in six years, with a team that look as close to unbeatable as anyone has come since Pep Guardiola's Barcelona of 2010-11; which was, presumably, the idea when that Barcelona system was purchased wholesale and bolted on to Abu Dhabi's sporting outreach project.
Here it is then. This is what football looks like at the end of seven years of hyper-competent state-funded development: a place without edges or snags or the familiar mess of ambition, meltdown and lust for glory; just that shark-like sense of state-level competence, refined through the Premier League's weekly finishing class. The end result is undeniably magnificent. But is it still la guerre? Does this thing still feel like sport?
No doubt City's supporters will sigh wearily at the idea there is suddenly something wrong with winning. Why us? Why not object to Manchester United's dominance of the 90s (also tedious at times) or Chelsea's opaque and financially incontinent ownership over the past two decades (also a scandal)?
Why not simply enjoy the wonderfully cinematic season's endgame when even City's key opponents in their pursuit of the treble – Arsenal, United, Real Madrid – are perfect for the story City like to tell about themselves as underdog outsiders ranged against the cartel. The cufflinks, the steady hand, the pistol inside the furled-up newspaper. This feels like a football version of the sequence in The Godfather where Michael takes out his sclerotic mafiosi rivals one by one; putting the world in order, in a way the world is, frankly, not bouncing back from.
Yet there is still something jarring about this spectacle. For all the obvious brilliance of the football, Manchester City are also a cold project. The players are wonderful. The pieces revolve with perfect synchronicity. So why does it feel like processed fillet steak, like AI Beethoven, like a literary masterpiece written by a super computer?
This is not simply about hurling money at the wall. There is a misconception that City spend more than other clubs. The club books suggest their financial management has in fact been commendably prudent. Plus of course basic transfer spend is a misleading metric. Has it helped Chelsea to capsize their own squad with hallucinogenic over-recruitment? Or Barcelona to panic-splurge themselves into a state of penury?
What we have instead here is planned, targeted, brilliantly enacted success. Pep Guardiola is the best manager in the world. Therefore we will buy not just Pep Guardiola, but the conditions that make Pep Guardiola work, an entire Pep Guardiola habitat. We will buy the strongest squad. There will be no variables here, just billionaire-backed certainties, aided by the stunning good fortune that this vision is shared by such far-sighted companies as Etisalat, Etihad Airways, Abu Dhabi Bank and others.
At the end of this watching City feels for the neutral like consuming high-end homogenised product, nodding approvingly at the finish, the slick automatic gear changes, the whisper of unparsed expense. Is this enough? Is it interesting? Does it leave us any space to feel anything?
It is at least deeply modern. In his uncomfortably prophetic book The Atrocity Exhibition JG Ballard coined the phrase "the death of affect" to describe not so much the death of feeling – feeling will still exist as commodified rage and triumph: cheer for us, feel anger for us – but the dying away of an emotional connection to public acts. Ballard has a chapter where he describes the assassination of JF Kennedy in the same phrases as a mass-spectated sporting event.
Watching this sporting project perform under those cold white lights, it is hard to avoid the feeling that City are the team Ballard would have imagined. Here is something engineered for the benefit of a dictatorial regime, an entity that is luminous, beautiful, chilly, politically controlled and shrouded also in a trapped sense of rage.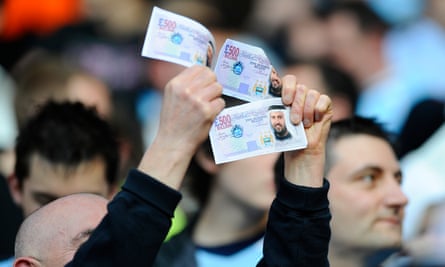 The key point behind all this is that City remain a sports-washing soft power vehicle for the state of Abu Dhabi. What we are witnessing here is the final expression of this brilliantly focused pursuit of the sun. Abu Dhabi is entitled to do this, to pour expertise and start-up funds into a sports club reimagined as a public relations arm.
But it is also important to remember why this is happening. It is time to restate these things as the project reaches its final stage. This is not a soft regime. Abu Dhabi is an ambitious carbon power run by an inherited royal family. Abu Dhabi has a record of alleged (and of course denied) human rights abuses and structural prejudice. Abu Dhabi believes homosexuality should be illegal, that wealth and power should be unchallenged by things such as democracy and social mobility. Abu Dhabi also believes that it can exist comfortably alongside states who don't believe these things by, among many other things, transforming English football's top tier into a high-visibility PR vehicle.
And perhaps Abu Dhabi is right, because it certainly seems, as the good times roll, to be accepted without question by the English media and the club's support. Although perhaps that sense of basic dislocation is still a part of this spectacle. One of the more interesting aspects of City's success has been its chief accompanying emotions, which are triumphalism and laconic gallows humour, but also quite a lot of anger.
In part this is simply tribalism. Here are a club on their way to winning a league that has in effect charged them with cheating; and also entering the final stages of the previous competition to accuse them of cheating. Some champion teams have a strut. City's basic vibe is something closer to an unceasing V-sign from the VIP lounge seats.
Perhaps there is also something unexpressed here, a sublimated unease. For all the performative regime-love, the bizarre embrace of the vice-president of Abu Dhabi as a fond and kindly Father Christmas figure, no one, deep down, wants to be treated as a political glove puppet. We will take your passion, your love, your loyalty and wear it like a campaign hat. Is this really a happy situation?
That pending dominance is at least entirely of the moment. In a season in which Qatar has reduced the World Cup to a painted political stage, how fitting that another nation-state vehicle should transform the club game into its own billboard. Welcome to the new world. The football is beautiful, steamrollering, tactically coherent. If it feels a little cold, a little planned, a little lacking in affect; well, maybe that's because it is.