All life, Valeriy Lobanovskyi once said, is a number. Which might have made sense for the groundbreaking Dynamo Kyiv manager, with his high-school medal for mathematics, but for most people who follow sport is a little disconcerting. We want to believe in heroes and glory, in imagination and genius, in fate and curses. Even if we acknowledge it probably is quite important, the thought of football as a series of vast interlocking spreadsheets feels a little dry.
And in the day-to-day we want ready explanations. We want to know that this game was won or lost because this forward or this keeper was on fire, or because this referee got it wrong, or this left-back was injured, or this winger didn't track, or this centre-back can't play in a two, or because the midfield couldn't shut down the passing lanes.
What we don't want to believe is that this is all essentially random variation within certain parameters defined by finance – which is a major reason the application of data in football has encountered resistance. Nobody buys a season ticket to watch a pair of balance sheets represented through the medium of 22 players kicking a ball.
All of which makes the idea that Leicester's battle against relegation is merely regression to the mean unpalatable. And perhaps it isn't that, or at least not just that. There are plenty of short-term reasons for the 2016 Premier League champions' decline. But equally the odd season of feast or famine shouldn't be too much of a surprise.
When Leicester twice missed out on Champions League qualification on the final day of the season, some criticised Brendan Rodgers for being unable to sustain the challenge, but most seemed to accept that fifth was a very good finish given resources and that, while fatigue may have ultimately exposed the limitations of the squad, it didn't much matter when in the season points were accrued.
But what if that process of balance is not confined to one season? What if it goes on over a much longer period? After all, a fellow at All Souls College, Oxford, once calculated that for a season to be totally "fair", for the vagaries of form to be evened out so it didn't much matter when one side played another, a season would have to be 35 years long.
Between winning promotion in 2013-14 and the end of last season, Leicester averaged 56 points a campaign. Last season that would have been enough to place them eighth. Which feels about right given that last season they did, indeed, finish eighth.
Newcastle and Aston Villa have risen on the back of recent spending and sensible managerial appointments, while Brighton's remarkable recruitment has allowed them, for now, to outperform their resources. But, according to Deloitte's 2023 report into football finance, Leicester were the eighth wealthiest Premier League team by revenue for the previous financial year.
In seven of those eight Premier League seasons, Leicester have been within 12 points, or four games, of that 56-point mark. In the other, they earned 81 and won the league. That was seen as a perfect storm: smart signings, half a dozen players having the season of their lives, other challengers all suffering unusually poor campaigns.
If Leicester take one point from their remaining three games of the season – which, given that after Liverpool on Monday they face Newcastle and West Ham, is plausible – they would have underperformed that 56-point average by the same 25-point margin they exceeded it by when winning the title in 2015-16.
Which, of course, would be just a coincidence; it's not that Leicester had some sort of debt that football's cosmic accountants have now called in. But it does neatly illustrate that clubs have a level and that their points total will vary within certain limits around that.
It is probably not quite true to say that this season for Leicester has been as bad as the title-winning season was good but, just as that success was a consequence of many aspects going right at once, this season has been a consequence of many aspects going wrong at once, which then has a multiplicative impact as confidence waxes or wanes.
The start of the downturn was probably the pandemic, which had a dire economic impact on the Srivaddhanaprabha family that owns Leicester because their main business is duty-free shops in airports. There had been concerns anyway that salaries were rising quicker than revenues, bringing the wage-to-turnover burden to 85% for 2020-21 when Uefa's cost control regulations mean that figure has to be reduced to 80% by 2024-25 and 70% the season after. That has necessitated belt-tightening.
It's not, though, that money hasn't been spent; it's that it hasn't been spent well. In the summer of 2021, almost £60m went on Patson Daka, Boubakary Soumaré, Jannik Vestergaard and the free agent Ryan Bertrand. None have yet settled.
Bertrand, a victim of the club's full-back injury hoodoo that has also led Timothy Castagne, James Justin and Ricardo Pereira to miss long chunks of the season, has started only four games since, while Jonny Evans last started a league game in October. Given that disruption, it is not surprising that if Leicester concede against Liverpool, it will be a 21st game in a row without a clean sheet.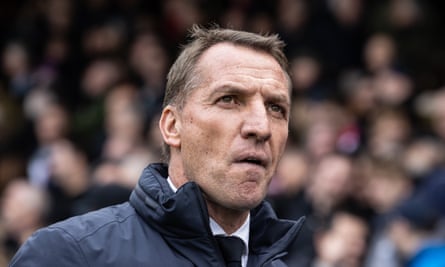 Add in the departures of Kasper Schmeichel and Wesley Fofana, age catching up at last with Jamie Vardy and Rodgers seemingly running out of steam just as the club were least financially equipped to replace him, and perhaps an unwarranted sense that a side used to finishing in the top half couldn't really be in relegation trouble, and the ingredients were there for the downturn.
Reasons can always be found for a blip, whether good or bad, and they are not unimportant: identifying causes and acting to correct or encourage them is how, without a massive injection of cash, the baseline can be edged upward. But as Lobanovskyi would no doubt have acknowledged, a season like this was always possible – which is why even long-term mid-table sides seem often so paranoid.
That would be no consolation to Leicester if they are relegated and that baseline is yanked sharply, and perhaps irremediably, downward.