Uefa's report on last season's Champions League final is impressively uncompromising. It was, it said, "through no merit of those in charge" that another Hillsborough was avoided. "The Préfecture de Police were in effect acting unilaterally to direct supporters toward an entry point that would be unable to cope with the level of demand placed upon it … several key stakeholders have not accepted responsibility for their own failures but have been quick to attribute blame to others."
The report is thorough and unsparing in criticising Uefa and the French authorities. There were supplementary factors, such as the rail strike, problems with scanning tickets and attacks by locals but, fundamentally, this was a colossal failure of crowd management. What is so infuriating is that so much of what happened was predictable to anybody who has been to a match in France.
In 2007, I covered the first leg of the Champions League last-16 tie between Lille and Manchester United, played in Lens. Trains from Lille were overwhelmed, an unpleasant situation worsened by some away fans letting off firecrackers and harassing other passengers.
Soon after the game had kicked off, it was apparent something was amiss in the lower tier of the stand behind the goal of Edwin van der Sar. One section of the area occupied by United fans was clearly dangerously overcrowded, a situation exacerbated by missiles being hurled down from the Lille fans in the upper tier.
Eventually, a handful of fans in evident distress broke through the fence at the front of the stand only to be set upon by riot police wielding batons. As others tried to follow, teargas was fired, creating further panic.
When Ryan Giggs scored an 83rd-minute winner with a quickly taken free-kick, Lille fans launched a fusillade of flagpoles on to the pitch. With home and away fans and police all behaving badly, the sense was that a major incident had been only narrowly avoided.
Uefa fined United 15,000 Swiss francs for the conduct of their fans and Lille 100,000 Swiss francs "for breaches of security provisions and lack of proper organisation".
Why had there been no police on the trains? What had caused the crush? Why had there been nothing to prevent missiles being thrown down from the upper tier? And who could possibly think firing teargas into a crush of frightened people would improve the situation?
These seemed like basic failings, but there was no proper inquiry into policing, just vague noises from French officials that the problems had been caused by United fans arriving late with black-market or counterfeit tickets, an increasingly familiar excuse.
What happened at the Champions League final this year was more serious. But the similarities to Lens 2007 are clear. Police also indiscriminately fired teargas at Everton fans in Lille in 2014 and there have been countless other instances in France of brutality as a first response, in domestic and European football.
As in Lens, much of what went wrong in Paris was basic. At 3.30pm, a Uefa security officer raised concerns about checks at the south‑west corner of the ground. I went through that entrance an hour later, squeezing between two police vans that had been parked on the pavement.
This was so obviously going to create a bottleneck at the top of the ramp leading up from the narrow pedestrian tunnel under the motorway I assumed they had been carelessly parked there to unload officers. It never occurred to me this might be part of the ticket‑checking process.
The congestion was worsened by rail strikes diverting a larger proportion of fans than would have been expected to one station and by signposting from the station. But when kick-off was delayed, the first instinct was to blame fans arriving late. That was clearly untrue given there had been lengthy queues for more than three hours.
The failure to integrate the 50 Liverpool stewards into the stadium match-day operation and the refusal to allow the club's security director into the control room looks like arrogance – and it is worth noting that after the 2006 final at the Stade de France between Barcelona and Arsenal, Uefa condemned "serious interoperability issues with partners, and in particular the police".
Then, to cap it all, with too many police deployed pitchside to head off the imagined threat of an invasion, fans leaving the ground were exposed to further attacks by locals. Their involvement was edited out of an initial Uefa statement about the incident by French authorities seemingly determined to blame fans and fans alone.
Police created a potentially fatal situation, attacked innocent fans and were nowhere to be seen when violence broke out and the authorities then lied about it. It sounds flippant to suggest it's a lot easier to squirt pepper spray through a fence into the face of distressed fans than to take on tooled-up local gangs, but that is what happened.
The attempts to deflect blame continued. Disgracefully, no CCTV footage was made available to Uefa's investigators. That from the Stade de France had been destroyed while local public prosecutors did not respond to requests for their film. Nor did the mayor of Saint-Denis cooperate with the panel.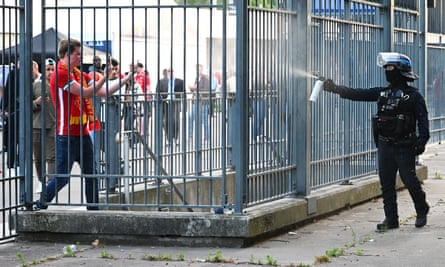 The French sports minister, Amélie Oudéa-Castéra, and the interior minister, Gérald Darmanin, meanwhile, carried on defending the police and blaming fans long after it was clear initial claims of 30-40,000 fans with fake ticket were untrue. Little wonder the report condemned "institutional defensiveness, putting reputation and self-interest above truth and responsibility".
The report blamed Uefa, but also concluded that "the heavy-handed approach of the police is a stain on France". As, frankly, it has been for some time. Post-lockdown, there has been a number of failures of organisation at major games – at the Cup of Nations in Yaoundé and a couple of Morocco games at the World Cup, but in France it is systemic. Nothing seems to have been learned in 15 years and nor is there any apparent desire to learn.
Unless there is a radical improvement in French policing, unless the incompetence and brutality is rooted out, how can Uefa allow France to host a major game again?