Christmas market season is my favorite of all! There is just so much to see and do and it's absolutely stunning.
One of the top questions I get: what do you buy at the Christmas markets in Germany?
There are an array of souveniers to pick up! This guide will help you sort out the best things to buy at a German Christmas market. Whether you are on a budget or want to splash out on something truly magical! So save room in your suitcase for all these Christmas goodies! this is the best place, in my opinion, to get your shopping done!
Stepping into a German Christmas market is like entering a winter wonderland, where the air is filled with the scents of roasted chestnuts and mulled wine, and the atmosphere is brimming with holiday cheer. One of the most enchanting aspects of visiting these markets is the opportunity to explore the unique and handcrafted treasures on offer. In this comprehensive guide, I will walk you through the must-have items you can find at a German Christmas market, from Glühwein mugs to ornaments, paper stars to sheepskins, and so much more.
Glühwein Mugs: Perfect budget Souvenir
Your German Christmas market experience begins with a steaming cup of Glühwein, the beloved mulled wine infused with spices and warmth. What makes this treat even more special is the collectible Glühwein mug that it comes in. These mugs are often uniquely designed and feature the emblem or theme of the specific market you're visiting. Each year, the design changes, making these mugs highly sought-after souvenirs. Take home a Glühwein mug to remember the cozy moments spent sipping hot mulled wine in the heart of the market.
Mugs often showcase the date of the market for each year! It's a great collectible! Plus, it's great for your budget!
Paper Stars: Year-Round Luminescence
One of the most charming and versatile items you can purchase at a German Christmas market is the paper star lantern. These delicate stars are made from colorful, translucent paper and adorned with intricate cut-out designs. They are traditionally used as holiday decorations, casting a warm and cozy glow when illuminated from within. However, many people love them so much that they keep them up all year long, adding a touch of whimsy and magic to their homes. These stars are easy to fold flat, making them ideal for souvenirs and gifts.
I especially love these because they are reasonably priced and easy to pack in your suitcase!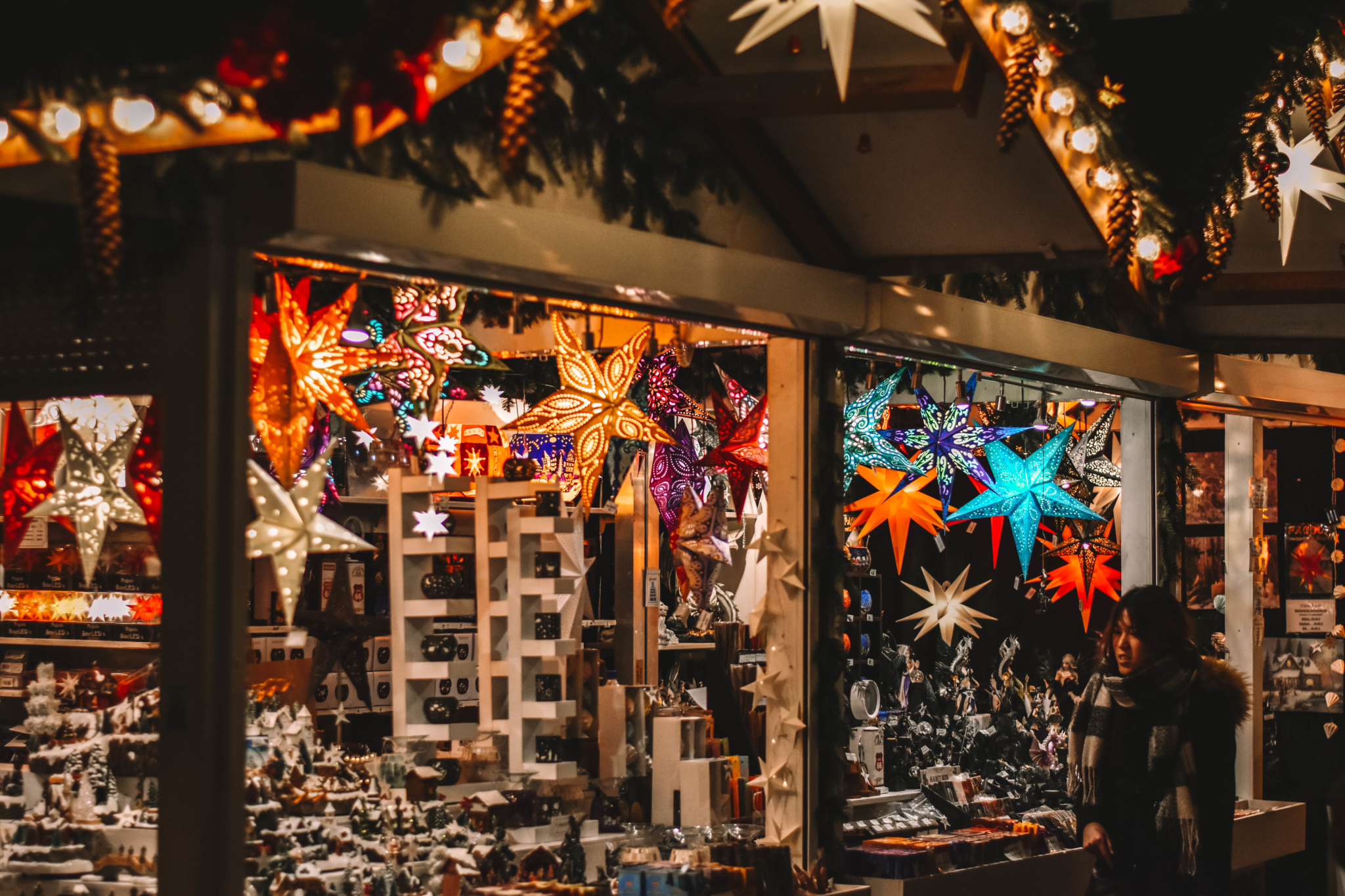 Ornaments: Deck the Halls with German Charm
German Christmas ornaments are renowned for their craftsmanship and attention to detail. You'll find an array of beautifully handcrafted ornaments at the market, ranging from delicate glass baubles to intricately carved wooden figurines. These ornaments often depict festive scenes, traditional characters like nutcrackers and angels, and symbols of Christmas, such as snowflakes and gingerbread cookies. Decorating your tree with these treasures will infuse your home with the spirit of a German Christmas.
Candle Holders: Illuminate the Night
The soft and flickering glow of candles is an integral part of the holiday ambiance at German Christmas markets. To replicate this cozy atmosphere in your own home, consider purchasing handmade candle holders or lanterns at the market. These candle holders come in various materials, such as wood, metal, and porcelain, and often feature festive designs, like winter scenes or holiday motifs. Placing these holders on your dining table or windowsill will infuse your space with a warm and inviting glow.
Sheepskins: Cozy Comfort for Your Home
As the temperature drops during the winter months, staying warm and comfortable becomes a top priority. At German Christmas markets, you'll often find stalls selling sheepskin products, from rugs to liners for baby carriages, shoes, and gloves. These high-quality sheepskin items provide not only warmth but also a touch of rustic elegance to your home and wardrobe. The plush texture and natural insulation of sheepskin make it a favorite among visitors looking for both practicality and luxury.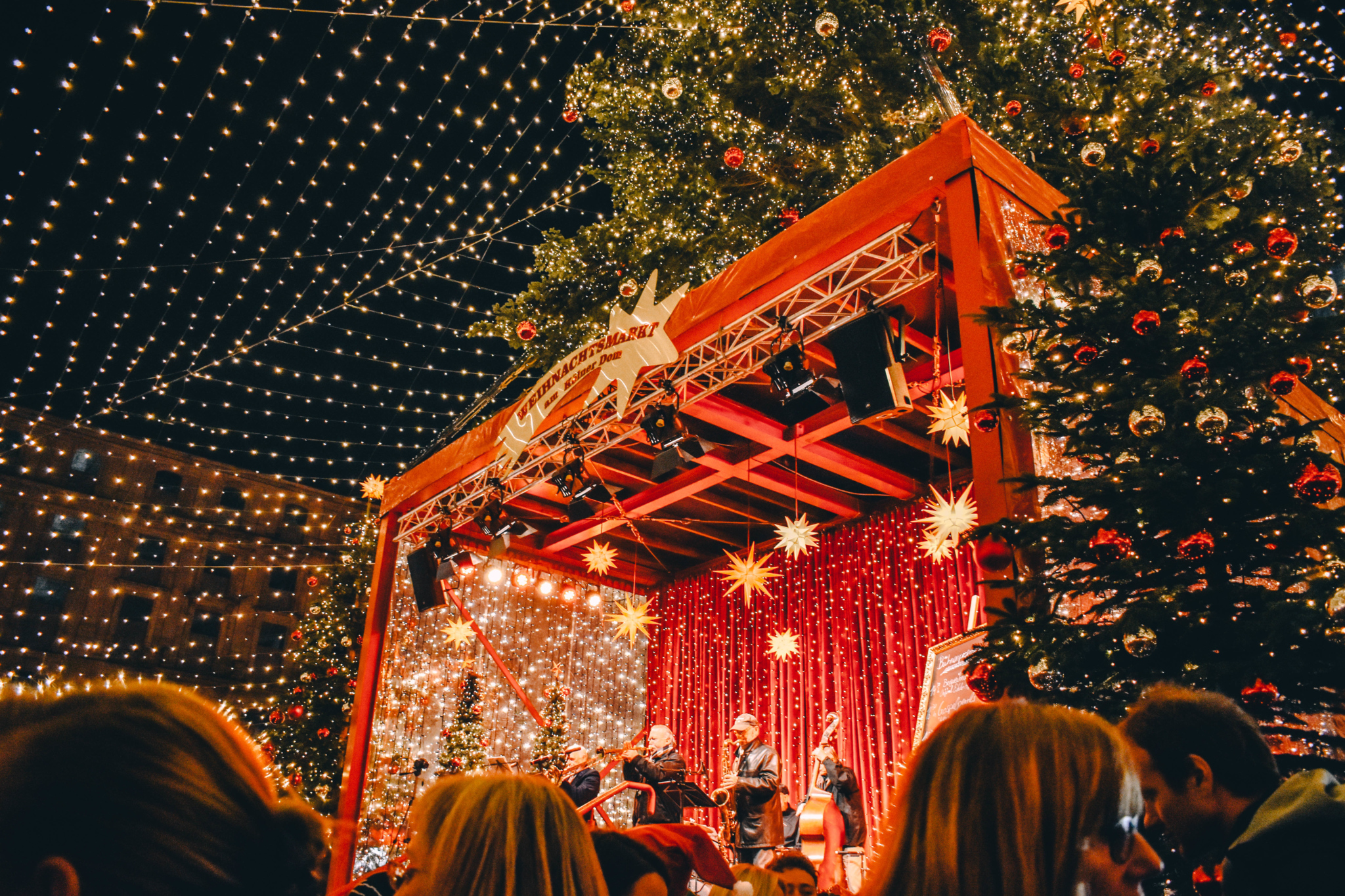 Handcrafted Wooden Treasures
No visit to a German Christmas market would be complete without admiring the exquisite handcrafted wooden items on display. These treasures are often crafted by skilled artisans, using traditional woodworking techniques that have been passed down through generations. From intricately carved nativity scenes to charming wooden ornaments, nutcrackers, and toys, the craftsmanship behind these creations is truly awe-inspiring.
One of the iconic symbols of German Christmas markets is the wooden Christmas pyramid (Weihnachtspyramide). These ornate, multi-tiered structures feature intricate wooden figurines and spin when lit by candles, creating a mesmerizing spectacle. Owning one of these pyramids allows you to bring a piece of this holiday magic into your own home.
Additionally, consider purchasing wooden candle arches (Schwibbogen) that depict scenes from traditional German life or Christmas traditions. These candle arches, typically made from beautifully stained wood, add a warm and rustic charm to your holiday décor.
Whether you choose a handcrafted wooden nativity set, a whimsical nutcracker, or a timeless wooden ornament, these pieces embody the spirit of craftsmanship and artistry that defines German Christmas markets. Each wooden treasure tells a story and serves as a reminder of the festive season's enduring traditions.
Flavored Liquor: Sip on Tradition
Flavored liquor is another delightful discovery at German Christmas markets. These beverages are often made with a base of spirits like schnapps or rum, infused with a variety of flavors. One popular choice is Feuerzangenbowle, where rum is set ablaze over sugarloafs and drips into a glass of mulled wine, creating a spectacular show and a deliciously aromatic drink. You can also find fruit-infused liqueurs, herbal schnapps, and spiced brandies, all perfect for warming up during the chilly evenings.
Gloves, Hats, and Scarves: Stay Cozy in Style
Winter in Germany can be quite chilly, and the Christmas markets are no exception. To stay warm and stylish, explore the selection of gloves, hats, and scarves available at the market. These accessories often showcase traditional German craftsmanship, with cozy materials like wool and fleece. Look for unique designs and patterns that reflect the festive spirit of the season. Whether you opt for a pair of hand-knitted mittens or a fluffy pom-pom hat, these items will keep you snug while adding a touch of flair to your winter wardrobe.
Käthe Wolfart
Kathe Wohlfahrt is a renowned German company specializing in all things Christmas. Their main store is located in Rothenburg ob der Tauber, but during the holiday season, you can find their enchanting pop-up shops in many German Christmas markets, including those in larger cities like Munich, Nuremberg, and Cologne.
Stepping into a Kathe Wohlfahrt store is like entering a Christmas wonderland. The shop is adorned with an array of holiday decorations, ornaments, and collectibles, each meticulously curated to capture the magic of the season. Here, you can find an extensive selection of handcrafted wooden items, from nutcrackers to pyramids, as well as exquisite glass ornaments and whimsical figurines.
One of the standout features of Kathe Wohlfahrt is their rotating Christmas tree that extends two stories high—a sight to behold! It's a place where you can lose yourself in the enchantment of the holidays, and it's an excellent spot to pick up unique and high-quality Christmas gifts or decorations.
Whether you're searching for a special addition to your ornament collection, a unique holiday gift, or simply looking to soak in the festive atmosphere, a visit to Kathe Wohlfahrt is a must during your German Christmas market adventure. Their treasures will undoubtedly add a touch of authentic German holiday magic to your celebrations.
Here's a look inside this magical store in Heidelberg!
Each market offers different things that you can buy so explore as many markets as you can!
A visit to a German Christmas market is not just a shopping excursion; it's an immersive experience in the heart of holiday tradition and festive spirit. The items you bring home from these markets aren't mere souvenirs; they are tangible memories of the magical moments spent sipping Glühwein, wandering through twinkling stalls, and embracing the warmth of the season. So, whether it's a Glühwein mug, an ornament, a paper star, a sheepskin, a candle holder, flavored liquor, or cozy winter accessories, each item carries with it the essence of a German Christmas market, ready to infuse your home and life with the enchantment of the season. Happy shopping!