When CelebMix met Ruel years four years ago backstage at The Garage in London, he'd been in Germany the night before, played a string of dates in Australia the week previous and was preparing to travel Scandinavia next.
When many teenagers were stressing over who had the invite to that weekend's house party, the protegé was growing up selling out some of the globe's most prestigious venues and hitting the charts.
It did, however, come with a cost. Take 2019 single 'Hard Sometimes' as evidence of that. "I feel like I'm not there, 'cause my head is up somewhere, far away from all my friends, I just want that back again," he cooed on that track.
Neither he nor the world quite expected what was coming six months later but the star had those wishes granted as he jetted back to Australia due to the pandemic.
"I just stayed in bed until 2 pm and then I'd get up and play basketball in the hoop outside my house for two hours because that's all I could do as exercise," Ruel laughs.
"Then I'd come into the studio and try and write a sad song for like three hours. I'd then eat breakfast at 4 pm, wait an hour and eat dinner."
He admits revelling in spending time with those friends he nodded to on 'Hard Sometimes' when lockdowns allowed.
He said: "That was the one part where I felt like my career was fully stopping. Other than that I was like this is kind of great because I can see all my friends again before the lockdown rules got a little bit more hectic. I could see my friends and act like normal kids again.
"They just finished school and I went to schoolies [high school parties Down Under] it was super wholesome and I felt like I needed that break a little, it had been two years straight on the road and I was like damn I did need a break. I think it might've been needed for me to not burn out."
Between the late breakfasts, basketball sessions and school parties, the idea for Ruel's debut album began to hatch, albeit slowly – he admits struggling for musical inspiration despite finding solace in life slowing down.
The star remembers laying in bed at night and scribbling down any thoughts that he might be able to turn into a sad song the next day whilst finding sonic influence from Elliot Smith, Phoebe Bridgers and Jeff Buckley.
"The things that I was writing during lockdown was me accumulating all the thoughts I had before I fell asleep, staring at the ceiling and right before I fell asleep writing where my brain was going," he says.
"That was where I had my most existential and complex thoughts. I thought it would be cool to delve into that and see if there was anything I could articulate. It was a bunch of songs where I thought the earth was heading and psychoanalysing past relationships."
Those lockdown days spawned two tracks on the record in 'LET THE GRASS GROW' and 'END SCENE'.
The former is a down-and-out effort which sees Ruel wanting to sink into the depths of the ocean to escape. Meanwhile the latter draws on his newfound affinity for Fight Club as he grabs the popcorn and kicks back to watch the world end from a place of acceptance.
It's all very melodramatic and very cinematic, but that's exactly the point. Ruel crafted 4th Wall to feel like a Hollywood hit and its coming-of-age tale could soundtrack Perks of Being a Wallflower or Lady Bird – he jokes that he'd want Jim Carrey to play him in any movie about his life.
Kicking things off on the album, 'GO ON WITHOUT ME' is a plucky flick you can hear the sun rising to as the main character takes a confident stroll while the opening titles roll.
When we put that to Ruel he chuckles. "I liked that it felt like an opener to a cheesy movie in the 80s," he said.
"I thought this is perfect because it's giving people a false sense of security for what it is and then it gets more existential and sadder as the record goes."
Ruel isn't lying, the record's emotions do take a nose diver after that misleading opening. There's a painful emptiness about 'SITTING IN TRAFFIC' as the star teeters on the edge of a break-up and 'JAPANESE WHISKEY' is sung as he lurches into that heartbreak.
The 20-year-old has constructed the album with song pairings like that are fully intentional.
Lead single 'GROWING UP IS_' was a head-turning release at the end of 2021 and remains one of the album's very best moments as Ruel embraces a full-on quarter-life crisis.
A moment of genius then comes as 'SET YOURSELF ON FIRE' follows. On that ditty, Ruel speaks back to the version of himself struggling on 'GROWING UP IS_' to reassure him that "it's ok, ok to be a little bit lost, no one really knows what they want".
"I felt these were the two songs that were about finding yourself a little bit and the coming of age story of not knowing who you are," Ruel says.
"'GROWING UP IS_' is asking the questions like, why am I such an idiot? Why am I so naive?
"'SET YOURSELF ON FIRE' is being okay with the fact that you're lost and just having fun with it. Being a kid and letting yourself be an idiot because those are the experiences you need to let yourself grow."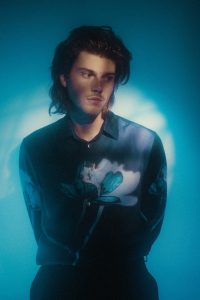 Elsewhere, as the film prepares to draw to a close, you can hear the star grab a mate by the collar and drag him out of one of those schoolies for a heart-to-heart on 'YOU AGAINST YOURSELF'.
Now the album has dropped, Ruel is preparing to hit the road once again to bring the record to life at live shows.
A long string of Australian dates is up first and whilst he won't give us any dates to mark in the calendar for UK gigs, his knowing smirk is confirmation they're coming.
We're ready when you are, Ruel.
Related