Following the reveal of their father Bruce Willis' frontotemporal dementia diagnosis, three of his daughters – Scout, Rumer and Tallulah – have thanked fans for their "overwhelming" support.
Taking to Instagram, Scout, 31, shared that she was, "Feeling emotionally tired and a bit overwhelmed, yet also very in awe of the love so many people have for my papa."
Her sisters, Rumer and Tallulah – all three of whom Bruce shares with his ex-wife, actress Demi Moore – also added their thanks by reposting Scout's Instagram Story.
READ MORE: Priscilla Presley 'not speaking to granddaughter' after Lisa Marie Presley's death
READ MORE: Private letters reveal new 'desperate and ugly' details in Charles, Diana divorce battle
"Second this Scouter feeling the abundant love for our guy and our family," 29-year-old Tallulah shared.
"I third this Scouter and Buusk feeling so deeply grateful and in awe of the love for our sweet Daddio," said 34-year-old Rumer, who is also an actress.
The Willis family shared the devastating news that their patriarch had progressed from his previous diagnosis with rare brain disorder, aphasia, to now having frontotemporal dementia (FTD).
The 67-year-old actor's wife Emma Heming Willis and ex-wife Demi Moore led the charge, each sharing a casual picture of Bruce on the beach to announce his health update.
READ MORE: 'Why Prince Harry's "older lover" had no choice but to identify herself'
"Our family wanted to start by expressing our deepest gratitude for the incredible outpouring of love, support and wonderful stories we have all received since sharing Bruce's original diagnosis," they began, with Rumer, Tallulah and Scout also sharing the post on their own respective Instagram accounts.
They then announced the Die Hard actor's latest diagnosis with FTD, sharing that, "Unfortunately, challenges with communication are just one symptom of the disease Bruce faces."
"While this is painful, it is a relief to finally have a clear diagnosis," they wrote.
READ MORE: Key to combatting condition 3.9 million Aussie men face but don't talk about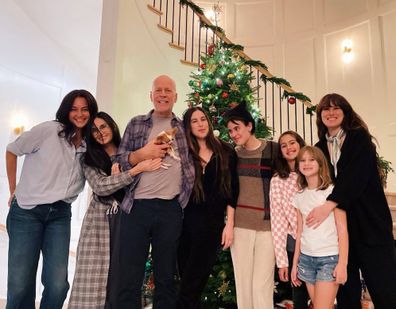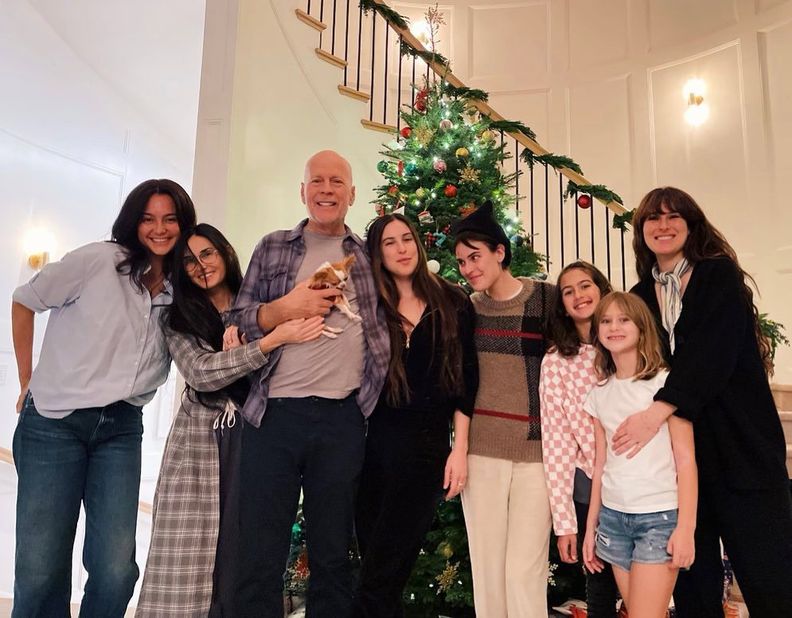 In an expanded statement shared on the Association for Frontotemporal Degeneration (AFTD) website, the family informs their fans that FTD is the most common form of dementia for people under 60, and due to the time it takes to get a diagnosis, it may be much more prevalent than we think.
They add that there are no treatments for this "cruel" disease as of yet, with the family wanting to "[shine] a light on this disease that needs far more awareness and research."
They signed the Instagram post, "In Love & Gratitude, Ladies of Willis/Moore," and the statement with " – Emma, Demi, Rumer, Scout, Tallulah, Mabel, and Evelyn."
Bruce is the patriarch of his blended family, which includes his ex-wife, actress Demi Moore, and their three daughters – Rumer, Scout and Tallulah – as well as his current wife Emma and their two daughters – Mabel, born 2012, and Evelyn, born 2014.
For a daily dose of 9Honey, subscribe to our newsletter here.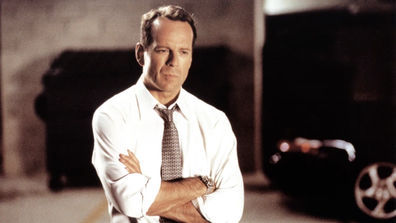 Bruce Willis' life and career in pictures