Late last week, Prince William made a "surprise" visit to an Ipswich hospital and ambulance center. "Surprise" meaning that it was unannounced and presumably William did not bring anyone from the royal rota. William and Kate used to try to cut out the rota on their events all the time – they would bring someone in-house to post photos on social media. I'm sure that's what happened here. William likely didn't want to get caught out like he did recently on the foodbank visit – he and Kate arrived empty-handed and brought along a half-dozen photographers for their poverty tourism. The thing is, William still showed up to this Ipswich hospital empty-handed. And it wasn't even a surprise to the emergency-care workers either, because one woman brought cupcakes for William. Well, guess who was rude about the cupcakes? Yeah. He's such a douchebag, my god.
The Prince of Wales proved he is ripping up the royal rulebook when it comes to formality as he surprised a group of schoolchildren with a video call during an engagement earlier this week. In a video posted on TikTok by 18-year-old Hannah Wickison, Prince William, 40, appears on a pupil's phone screen while sitting with one of their mothers.

The prince was on the video call with Kelly Gaskin, a service delivery manager at the East of England Ambulance Service, who had made a batch of royal-themed cupcakes for his visit. A video of the call shows the children, from Colchester in Essex, laughing with the father of three, who was on a surprise informal visit to the hospital and ambulance station.

It was a markedly informal gesture from the future king, who appeared relaxed as he laughed with the students. He even joked with one pupil, who had red hair, saying he looked like Ed Sheeran. The surprise call is the latest in a series of lighthearted gestures from William which perhaps hint at his desire to make the monarchy more approachable and relatable for the younger generation.

During the call, the prince says: 'Who's the guy, to the corner?' and points to the pupil as the others laugh and the camera focuses on the bashful boy, who giggles and bows his head. Amid the giggles, William asks: 'Are you guys doing any work?' to which the chorus of pupils replies: 'No!' The pupil's mother chimes in and tells the children: 'You should be', before they inform her they're on their lunchbreak.

William then makes another joke to his eager audience, telling one young boy: 'Your mother's feeding me her cakes.'

He then holds up a cupcake to the camera, quipping: 'They're not very good!' The children then burst into laughter as the prince adds: 'I've told her she wouldn't win Bake Off.'

William then shares a giggle with the pupil's mother, as she can be heard saying: 'Right, we're going to go.'
[From The Mail Plus]
"Your mother's feeding me her cakes" – I imagine he says that often in Houghton Hall. Cough. As for "they're not very good" – again, he went empty-handed to visit first responders, overworked healthcare staffers, nurses, doctors, ambulance EMTs. Someone did something nice and brought some cupcakes for William. And his first instinct is to make fun of the woman's baking. A f–king tool. As for all of the talk about "his desire to make the monarchy more approachable and relatable for the younger generation" – he's behaving like an arrogant elitist so the youths will like him??
A big thank you to @kerryjgaskin for the incredible cakes, we heard they went down a treat! pic.twitter.com/hIFGW4c5oE

— EEAST Ambulance Service (@EastEnglandAmb) February 13, 2023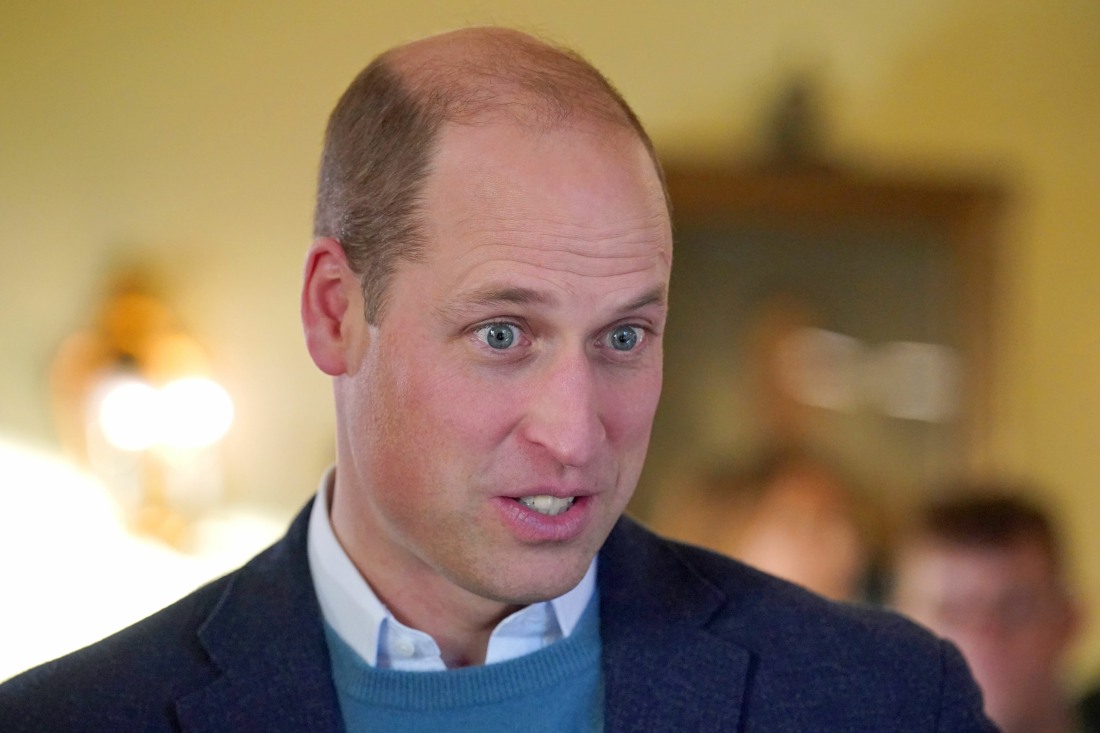 Photos courtesy of Cover Images, social media.
Catherine, Princess of Wales and Prince William, Prince of Wales visit Windsor Foodshare in Windsor, England. The Prince and Princess of Wales visited the charity to learn about their work providing food parcels to those who are struggling financially.

Featuring: Catherine, Princess of Wales, Prince William, Prince of Wales
Where: Windsor, United Kingdom
When: 26 Jan 2023
Credit: Cover Images
Prince William The Prince of Wales meeting The Earthshot Prize 2022 finalists, as he joins them at the Earthshot Prize Fellowship Retreat in Windsor. The event is a vital part of the new Earthshot Prize Fellowship Programme, a unique, 9-month accelerator designed to help Earthshot Prize Finalists grow their solutions by unlocking new routes to market, finance, and major partnerships

Featuring: Prince William
Where: London, England, United Kingdom
When: 26 Jan 2023
Credit: Jonathan Brady/PA Images/INSTARimages.com/Cover Images

**North America Rights Only**
Prince William The Prince of Wales meeting The Earthshot Prize 2022 finalists, as he joins them at the Earthshot Prize Fellowship Retreat in Windsor. The event is a vital part of the new Earthshot Prize Fellowship Programme, a unique, 9-month accelerator designed to help Earthshot Prize Finalists grow their solutions by unlocking new routes to market, finance, and major partnerships

Featuring: Prince William
Where: London, England, United Kingdom
When: 26 Jan 2023
Credit: Jonathan Brady/PA Images/INSTARimages.com/Cover Images

**North America Rights Only**
Prince William The Prince of Wales meeting The Earthshot Prize 2022 finalists, as he joins them at the Earthshot Prize Fellowship Retreat in Windsor. The event is a vital part of the new Earthshot Prize Fellowship Programme, a unique, 9-month accelerator designed to help Earthshot Prize Finalists grow their solutions by unlocking new routes to market, finance, and major partnerships

Featuring: Prince William
Where: London, England, United Kingdom
When: 26 Jan 2023
Credit: Jonathan Brady/PA Images/INSTARimages.com/Cover Images

**North America Rights Only**
Prince William The Prince of Wales meeting The Earthshot Prize 2022 finalists, as he joins them at the Earthshot Prize Fellowship Retreat in Windsor. The event is a vital part of the new Earthshot Prize Fellowship Programme, a unique, 9-month accelerator designed to help Earthshot Prize Finalists grow their solutions by unlocking new routes to market, finance, and major partnerships

Featuring: Prince William
Where: London, England, United Kingdom
When: 26 Jan 2023
Credit: Jonathan Brady/PA Images/INSTARimages.com/Cover Images

**North America Rights Only**