I'm fond of saying that Prince William is the Tory Party's useful idiot, and that it's pretty clear (to me) that William is something of a "special project" for the arch-conservative political class in the UK. They're grooming him to be the king they need. It helps that I genuinely believe William shares a lot of those conservative politics. In the UK, as in America, there's also a close alignment between the right-wing political machine and Russia. Western neo-fascists love Vladimir Putin and the oligarchs, they love Russian money and half of them are probably being blackmailed by Russian kompromat. Speaking of, here are some years-old photos of Prince William and Russian oligarch Evgeny Lebedev, aka Lord Lebedev, the owner of the The Independent and the Evening Standard. Lord Lebedev has close ties to Queen Camilla, King Charles and William. Lebedev is far from the only significant tie between the Windsors and Putin's oligarchs.
Speaking of, William will appear at the BAFTAs tonight, for the first time since 2020. He is the honorary president of BAFTA, although he rarely shows up and often uses his position to bully the BAFTAs. At this year's BAFTAs, one of the Best Documentary nominees is Navalny, a film about the Russian plot to assassinate Russian dissident/Putin critic Alexei Navalny. One of the investigative journalists involved in the documentary has been banned from the BAFTAs:
An investigative journalist who helped to reveal the plot to kill Russian dissident Alexei Navalny has claimed he and his family have been "banned" by police from attending the ceremony on Sunday in London due to "a public security risk".

Christo Grozev features in the 2022 film Navalny, which is nominated in the best documentary category. The film explores the story of Russian opposition leader Navalny and events related to his poisoning in 2020. Grozev is filmed explaining how he and fellow investigative journalist Maria Pevchikh revealed the details of the poisoning plot that indicated Russia's involvement.

Grozev wrote on Twitter on Friday: "I was surprised to discover that my whole family and I have all been banned by British police from attending this weekend's Bafta awards where the documentary #Navalny is nominated. The reason stated: we 'represent a public security risk'. I understand the need to keep the public safe (although I don't understand how my son or teenage daughter constitute risk to the public). But moments like this show the growing dangers to independent journalists around the world. These dangers don't stem just from murderous dictators, but also from having journalists' voices hushed – instead of amplified – by the civilised world they are trying to serve."

In response to Grozev's online remarks, the Metropolitan police said that police forces generally "do not and cannot" ban individuals from attending events and that decisions about attendance were down to organisers. The force said it could not comment on the safety of an individual or advice given to them, but that it was "absolutely concerned" with the "hostile intentions of foreign states" on UK soil.
[From The Guardian]
The Met police issued a statement saying, in essence, that they were not the ones banning anyone, and that it was a call being made by BAFTA organizers working closely with security. After that story came out, activist Peter Tatchell and the anti-monarchy group Republic both announced that they had received tips from sources that Prince William was the one who requested that Christo Grozev be banned from the ceremony. Is it possible that this is just a false rumor? For sure. But I wouldn't doubt these stories at all.
BREAKING NEWS: I've received a tip off that Prince William's office pressured the #BAFTA's to disinvite journalist Christo #Grozev who exposed the plot to kill Alexei #Navalny. Source is insiderhttps://t.co/xew2aw4eO9@RepublicStaff @GrahamSmith_ @nomoremonarchs @Billbrowder

— Peter Tatchell (@PeterTatchell) February 18, 2023
We have received same information from a credible source. https://t.co/GG9ABf8094

— Republic (@RepublicStaff) February 18, 2023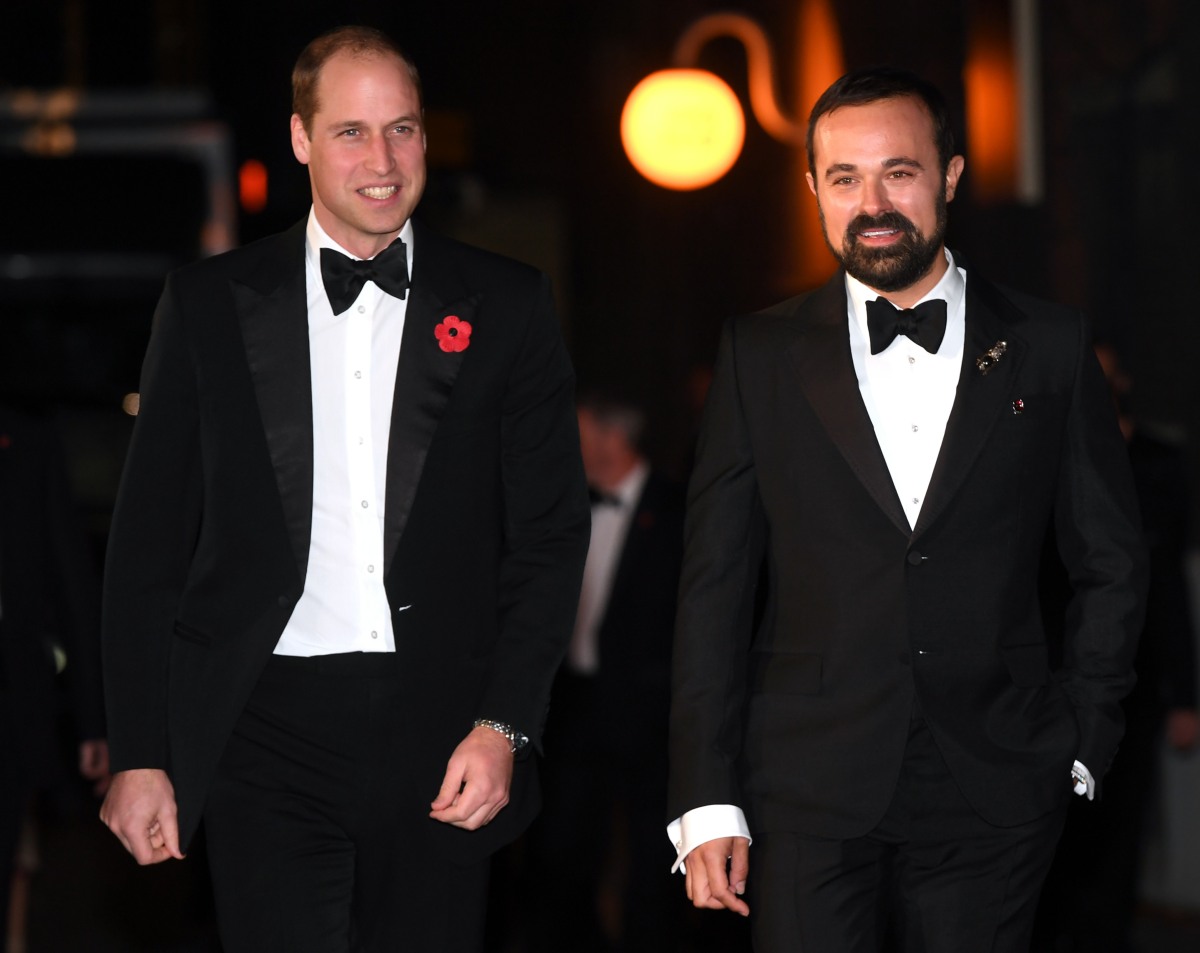 Photos courtesy of Cover Images.
USA Rights Only – London, England – 11/13/2016 – London Evening Standard Theatre Awards.

-PICTURED: Prince William and Evgeny Lebedev
-PHOTO by: PA Images/Startraksphoto.com
-Startraks_Pai_29165021.JPG

Editorial – Rights Managed Image – Please contact www.startraksphoto.com for licensing fee
Startraks Photo
New York, NY
For licensing please call 212-414-9464 or email sales@startraksphoto.com
Image may not be published in any way that is or might be deemed defamatory, libelous, pornographic, or obscene. Please consult our sales department for any clarification or question you may have.
Startraks Photo reserves the right to pursue unauthorized users of this image. If you violate our intellectual property you may be liable for actual damages, loss of income, and profits you derive from the use of this image, and where appropriate, the cost of collection and/or statutory damages.

Featuring: Prince William and Evgeny Lebedev
Where: London, England, United Kingdom
When: 13 Nov 2016
Credit: PA Images/Startraksphoto.com

**USA Rights Only**
USA Rights Only – London, England – 11/13/2016 – London Evening Standard Theatre Awards.

-PICTURED: Prince William and Evgeny Lebedev
-PHOTO by: PA Images/Startraksphoto.com
-Startraks_Pai_29165031.JPG

Editorial – Rights Managed Image – Please contact www.startraksphoto.com for licensing fee
Startraks Photo
New York, NY
For licensing please call 212-414-9464 or email sales@startraksphoto.com
Image may not be published in any way that is or might be deemed defamatory, libelous, pornographic, or obscene. Please consult our sales department for any clarification or question you may have.
Startraks Photo reserves the right to pursue unauthorized users of this image. If you violate our intellectual property you may be liable for actual damages, loss of income, and profits you derive from the use of this image, and where appropriate, the cost of collection and/or statutory damages.

Featuring: Prince William and Evgeny Lebedev
Where: London, England, United Kingdom
When: 13 Nov 2016
Credit: PA Images/Startraksphoto.com

**USA Rights Only**
USA Rights Only – London, UK – 2/13/17 The Duke of Cambridge at The Mix in London to launch the Centrepoint Helpline. -PICTURED: Prince William, The Duke of Cambridge, Evgeny Lebedev -PHOTO by: John Stillwell/PA Images/INSTARimages.com -INSTAR_Royal_Visit_To_Centrepoint_3341825681.JPG Editorial Rights Managed Image – Please contact www.INSTARimages.com for licensing fee and rights: North America Inquiries: email sales@instarimages.com or call 212.414.0207 – UK Inquiries: email ben@instarimages.com or call + 7715 698 715 – Australia Inquiries: email sarah@instarimages.com.au Êor call +02 9660 0500 Ð for any other Country, please email sales@instarimages.com. ÊImage or video may not be published in any way that is or might be deemed defamatory, libelous, pornographic, or obscene / Please consult our sales department for any clarification or question you may have – http://www.INSTARimages.com reserves the right to pursue unauthorized users of this image or video. If you are in violation of our intellectual property you may be liable for actual damages, loss of income, and profits you derive from the use of this image or video, and where appropriate, the cost of collection and/or statutory damage.

Featuring: Prince William, The Duke of Cambridge, Evgeny Lebedev
Where: London, England, United Kingdom
When: 13 Feb 2017
Credit: John Stillwell/PA Images/INSTARimages.com

**USA Rights Only**