No 10 rejects claim Sunak 'dithering' over whether to order inquiry into claims Braverman broke ministerial code
Downing Street has rejected suggestions that Rishi Sunak is dithering over whether to launch a formal inquiry into Suella Braverman's conduct, PA Media reports. At the afternoon lobby briefing, asked why Sunak was "dithering" over whether or not to get his ethics adviser, Sir Laurie Magnus, to carry out an investigation into claims Braverman broke the ministerial code, the PM's spokesperson replied:
I wouldn't characterise it like that. I think people would understand that it's right to gather all the facts before making a decision.
Pressed on why Sunak is carrying out an investigation himself when he has an independent adviser to do this for him, the spokesperson said:
That's not how I'd characterise it. He's asked for some more information before coming to a decision. I'm sure we will have more to say once that's concluded.
Key events
No 10 has rejected claims that Rishi Sunak is dithering as he considers whether to order an inquiry into claims that Braverman broke the ministerial code by asking officials to arrange a private speed awareness course for her. The story first emerged on Saturday night. (See 4.30pm.)
80% of voters, including 55% of Tory supporters, think Britain needs fresh team of leaders, poll suggests
The polling firm Ipsos has published its latest political monitor polling round-up. There is a faint glimmer of hope for the Conservatives in the voting intention figures which, while still giving Labour a big lead, suggest that it has been shrinking a bit in recent months.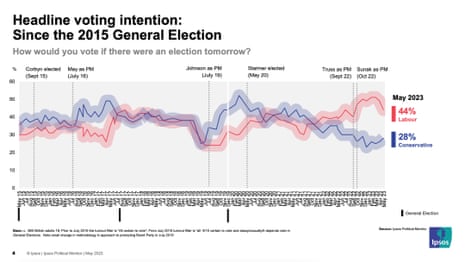 But most of the other charts in the document will make grim reading for Rishi Sunak. Perhaps one of the most significant is this one, showing that 80% of people – and 55% of Conservative supporters – think Britain needs a fresh team of leaders. This matters because "time for a change" is one of the strongest campaign messages in politics.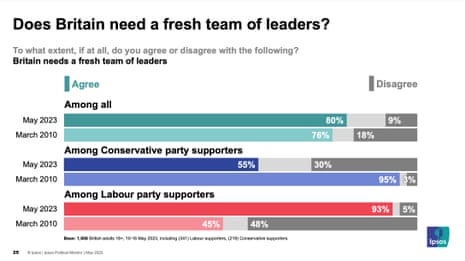 Jeffrey Donaldson signals he expects cash for Northern Ireland to be part of UK offer to get DUP to resume power sharing
Sir Jeffrey Donaldson, the DUP leader, has signalled that he expects extra money for Northern Ireland to be part of a package of measures from the UK government to end the deadlock at Stormont, and lead to the DUP lifting its boycott of power sharing.
Speaking at Westminster at the launch of the Trade NI reports, Donaldson said:
We're discussing a range of issues with the government, not least our budgetary challenges in Northern Ireland, as well as the need to address the problems created by the protocol and where we feel the Windsor framework falls short of providing that solution.

As to quantum [for a financial package for Northern Ireland] there is nothing clear at this stage but I think what is evident from the Treasury is that they want to see proposals from Northern Ireland about investment to reform our public services, as well as giving us the extra funding we need to deliver for those public services.

The government knows what is needed and I believe the government will bring forward what is required.
The DUP has been refusing to participate in power sharing for more than a year because of its opposition to the original Northern Ireland protocol and the revised version, the Windsor framework.
In a report for Politico last month, Shawn Pogatchnik said the UK government could end up spending around £1bn on Northern Ireland as part of efforts to get the DUP to lift its boycott of Stormont.
Last week at PMQs Oliver Dowden, the deputy PM, did not mention finance, but he did say, in a reply to Donaldson, that the government was willing to legislate to give the DUP the assurances it wants about Northern Ireland continuing to have access to the UK market.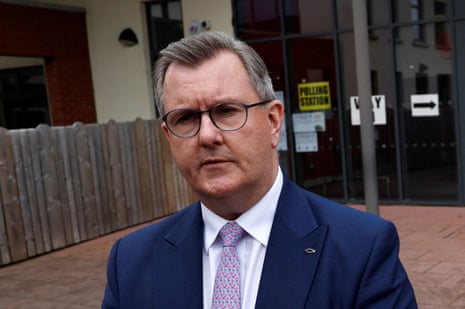 No 10 rejects claim Sunak 'dithering' over whether to order inquiry into claims Braverman broke ministerial code
Downing Street has rejected suggestions that Rishi Sunak is dithering over whether to launch a formal inquiry into Suella Braverman's conduct, PA Media reports. At the afternoon lobby briefing, asked why Sunak was "dithering" over whether or not to get his ethics adviser, Sir Laurie Magnus, to carry out an investigation into claims Braverman broke the ministerial code, the PM's spokesperson replied:
I wouldn't characterise it like that. I think people would understand that it's right to gather all the facts before making a decision.
Pressed on why Sunak is carrying out an investigation himself when he has an independent adviser to do this for him, the spokesperson said:
That's not how I'd characterise it. He's asked for some more information before coming to a decision. I'm sure we will have more to say once that's concluded.
Chris Mullin, the former Labour MP and celebrated diarist, doesn't believe that the Suella Braverman speed awareness course story amounts to much of a scandal. Mullin, a Labour leftwinger, seems to feel the same way about this as Tories such as Sir Edward Leigh. (See 12.51pm.)
Troops will need to be deployed to tackle climate crisis, US climate envoy John Kerry tells MPs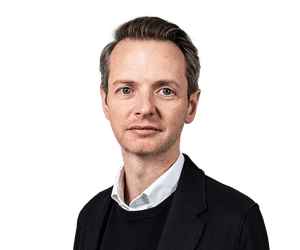 Ben Quinn
Britain and America's efforts to combat the climate crisis will require mobilisation and deployment of troops as if they were waging a major war, the US climate envoy John Kerry has warned MPs.
Appearing before the Commons defence committee, Kerry was upbeat about the chances of "winning this battle" even though he accepted it would be a "hard lift" to keep global heating to 1.5C.
Despite that, he believed that technology and innovation would play a crucial role in bringing the world back after it had smashed through that target, citing the Covid vaccines as examples. He said:
It is clear that it is building up to a place where it going to be one of the most significant disrupters of life as we know it on the planet.
The former presidential candidate, now serving as the first United States special presidential envoy for climate, was appearing by remote link before the committee as part of its defence and climate change inquiry.
Sketching out the threats, he warned that it was clear there would be more destruction from some of the impact of the climate crisis than occurred in wars, while there would need to be a mobilisation and deployment of troops to meet range of related challenges.
On top of this, the crisis could embolden the world's "mischief makers", threaten deterrence and act as what he described as a "threat multiplier".
Kerry also said the armed forces needed to play in terms of emissions reductions, pointing out that more than 50% of UK government emissions came from the military.
The University and College Union, which represents university staff, has described the Home Office decision to restrict foreign students from bringing dependants with them to the UK (see 1.17pm and 1.52pm) as "a vindictive move".
Jo Grady, the UCU general secretary, said:
Today's announcement that international students will be prevented from being joined in the UK by their family members is a vindictive move from a government captured by anti-immigration sentiment.

Those who choose to study in the UK, no matter where they are from in the world, bring huge value to our society and deserve the right to live alongside their loved ones whilst they study. Instead, they are being treated with contempt.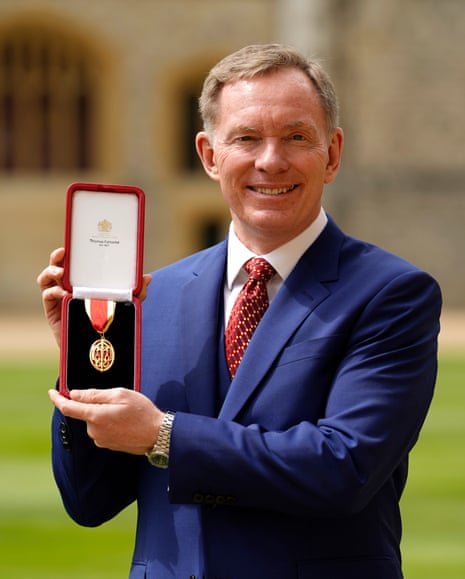 Labour criticises Gove for dropping plans to abolish leasehold under pressure from No 10 and Tories who think he's 'socialist'
Labour has accused Michael Gove, the levelling up secretary, of going back on a proposal he made earlier this year to abolish the "feudal" system of leasehold.
In a Commons debate, Lisa Nandy, his Labour shadow, suggested that Gove had been forced to scale back his plans for leasehold reform because Tory MPs were complaining he was "too socialist". She said:
We have had grumbling from the backbenches opposite that the secretary of state is being too socialist. And so Downing Street has stepped in and plans are being rowed back and he isn't even able to set foot in this chamber today. It is a bit of a mess isn't it?
Referring to the legislation that has been promised by the government, Nandy asked:
Will the minister give us a cast-iron guarantee that the bill they have promised will bring to an end the sale of new private leasehold houses at the point the bill comes into force, ensure those provisions are applied retrospectively to December 2017 – a promise that has been made repeatedly by this government – and bring in a workable system to replace private leasehold flats with commonhold?
Gove was not in the chamber to respond, but Lee Rowley, the levelling up minister, told MPs that leasehold reform would happen before the election. He said:
We have committed to make it easier and cheaper for leaseholders to extend their lease or to buy their freehold. We will bring forward legislation to ban new residential long leases on houses and I am pleased to see that whilst there are still issues, the market has already responded, with only 1.4% of houses in England now being built as leasehold compared to nearly 15% previously.
Earlier this month my colleague Kiran Stacey reported that Gove had been forced to drop his more ambitious plans because No 10 does not think it will be possible to pass wholesale reform before the general election.
Marley Morris, a migration expert at the IPPR thinktank, says targeting foreign students and their dependants as a means of bringing down net immigration does not make sense because the vast majority of them don't stay anyway.
The Russell Group, which represents 24 leading universities, has said the restriction on foreign students bringing dependants with them, announced by the Home Office today (see 1.17pm and 1.52pm), will make it harder for universities to diversify their foreign intake. In a response, Tim Bradshaw, its chief executive, said:
International students bring a range of benefits to the UK as well as vital income to support education for UK students and world-leading research that benefits us all, which is why they feature prominently in the government's own international education strategy.

Global competition for international students is fierce and some of the announcements made today are likely to have a negative impact on universities' plans to diversify their international student intakes.
Bradshaw also said students should not be included in the net migration figures as if they are permanent migrants.
A reader asks:
Do we know anything about the economic contributions of students/dependant families? I had to pay an NHS surcharge + paid taxes despite not having any access to public funds when I became a citizen. Surely students are a net bonus. And as a uni lecturer, international students bring £ but also a ton of insight to the classroom.
Universities UK, the lobby group representing universities (who are strongly in favour of foreign students, because they are a revenue bonanza for the organisation's members) claims the figure is close to £42bn. It published a report on this earlier this month and in its summary it says:
The report, which was commissioned to explore the impact of international students to the UK economy, reveals economic benefits have risen from £31.3bn to £41.9bn between 2018-19 to 2021-22, an increase of 34%. The data also confirm that – even when accounting for the impact on public services (estimated at £4.4 bn) – the economic benefits of hosting international students significantly outweigh the costs with a total net benefit of £37.4bn to the UK economy.

The net economic impact of international students has seen a dramatic rise over the past few years – up 58% since 2015-16, (£23.6bn to £37.4bn). One reason for this is the 68% rise in the number of students (now standing at 350,145) from non-EU countries since 2018-19. Data from the report indicate that every 11 non-EU students generate £1m worth of net economic impact for the UK economy – or £96,000 per non-EU domiciled student.
Changes to student visa rules will have disproportionate impact on women, says Universities UK
Universities UK, which represents universities, has expressed some concern about the Home Office plan announced today to impose restrictions on foreign students being allowed to bring dependants with them to the UK. (See 1.17pm and 1.52pm.) It says women could be affected disproportionately.
In a statement, Jamie Arrowsmith, its director, said:
The rise in the number of dependant visas has been substantial and has likely exceeded planning assumptions in government. We recognise that, in some places, this has led to local challenges around access to suitable family accommodation and schooling, with implications for the student experience. Given this, some targeted measures to mitigate this rise may be reasonable, for example looking at eligibility for particular types of course (such as one-year taught postgraduate programmes) or enhancing the financial assurances that prospective students are required to provide.

While the vast majority of students will be unaffected by proposals that limit the ability to be accompanied by dependants, more information is needed on the programmes that are in scope before a proper assessment of the impact can be made. Yet we do know that any changes are likely to have a disproportionate impact on women and students from certain countries. We therefore urge the government to work with the sector to limit and monitor the impact on particular groups of students – and on universities, which are already under serious financial pressures. The review process that has been announced must consider these issues.
No 10 gives its backing to EHRC chair amid reports her support for amending Equality Act has triggered staff backlash
This morning the Daily Mail has splashed on a story saying staff at the Equality and Human Rights Commission are trying to force out its chair, the Lib Dem peer Lady Falkner. The paper suggests she is the victim of a "witch hunt" because she has told the government that in principle the EHRC favours tightening the definition of sex in the Equality Act so that it just means biological sex. As the Act is drafted, it seems to apply to gender too, because the two words are used interchangeably.
The government is pushing for this change, but the proposal is deeply unpopular with trans people who say it would limit their rights.
At the Downing Street lobby briefing this morning No 10 gave its backing to Falkner when asked about the story. The PM's spokesperson said:
The government has enjoyed a constructive relationship with both the commission and the chairwoman on its important ongoing work relating to equality.
Braverman says net immigration expected to fall to pre-pandemic levels 'in medium term'
Here are more details of the immigration measures announced by Suella Braverman.
Braverman, the home secretary, said there were six elements of the package she was proposing. She set them out like this.
1) Removing the right for international students to bring dependants unless they are on postgraduate courses currently designated as research programmes.

2) Removing the ability for international students to switch out of the student route into work routes before their studies have been completed.

3) Reviewing the maintenance requirements for students and dependants.

4) Steps to clamp down on unscrupulous education agents who may be supporting inappropriate applications to sell immigration not education.

5) Better communicating immigration rules to the higher education sector and to international students.

6) Improved and more targeted enforcement activity.
Downing Street said the new rule about foreign students not being able to bring dependants would take effect from January 2024.
We are committed to attracting the brightest and the best to the UK. Therefore, our intention is to work with universities over the course of the next year to design an alternative approach that ensures that the best and the brightest students can bring dependants to our world leading universities, while continuing to reduce net migration. We will bring in this system as soon as possible, after thorough consultation with the sector and key stakeholders.
We expect this package to have a tangible impact on net migration. Taken together with the easing of temporary factors, we expect net migration to fall to pre-pandemic levels in the medium term.
According to the ONS, net immigration in 2019 was 313,000. In December 2019 the Conservative party won a general election on a manifesto saying that under the party "overall [immigration] numbers will come down". Rishi Sunak has recently signalled that, if this meant getting net immigration below 2019 levels, he no longer feels committed to achieving that before the next election.
Those affected by this package will predominantly be dependants of students who make a more limited contribution to the economy than students or those coming under the skilled worker route, minimising the impact on UK growth.
She said that although the government welcomed the economic contribution made by foreign students, "this should not be at the expense of our commitment to the public to lower overall migration and ensure that migration to the UK is highly skilled and therefore provides the most benefit".
Braverman announces restrictions on ability of foreign students to bring dependants to UK
While the urgent question was taking place, Suella Braverman, the home secretary, published a written ministerial statement confirming that the government will stop foreign students getting visas allowing them to bring their dependants to the UK, unless they are doing postgraduate research courses.
According to the government, around 136,000 such visas were issued in 2022 – up from 16,000 in 2019. And 486,000 student visas were issued to main applicants in 2022 – up from 269,000 in 2019.
Braverman is also stopping foreign students switching to a work visa before they have finished their studies.
These measures are being announced now because the government wants to show it is doing something to reduce net immigration numbers before figures are published on Thursday, which are expected to show immigration at a record high in 2022, at around 700,000 or more.
Jim Shannon (DUP) says we should all learn from the biblical quote, that he who is without sin should cast the first stone.
Pointing out that this is the last question, Quin says that is a good note on which to end.
Joanna Cherry (SNP) asks if the latest Independent revelations (see 12.26pm) will be investigated. She says that, as chair of the joint committee on human rights, she has been in correspondence with Suella Braverman on Rwanda, and Braverman has a "rather rosey-eyed view" of Rwanda's human rights record. She suggests that is connected to Braverman's undisclosed links with the Rwandan government.
Quin says he has not read the Independent story, but just seen a tweet about it. He says this was charity work carried out before Braverman became an MP.
Labour's Andrew Gwynne also asks if the Cabinet Office's proprietary and ethics committee was involved. (See 12.53pm.) He says, if officials had the integrity to seek advice on this, why has the PM not shown the same attitude and ordered an investigation?
Quin says the PM is seeking the facts as to what happened.